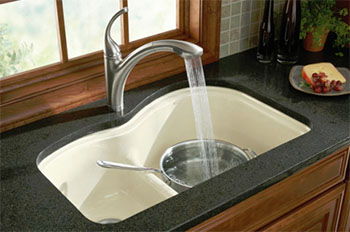 Plumbing is one of the core system inside a home, it allows for water to be guided and transported throughout the house to where it's needed. Due to the large size of the system, there can be a variety of problems, which can cause damages up to thousands of dollars. Our service provides everything you will need when it comes to plumbing, whether its water heater repair/replacement, emergency plumbing, and commercial/residential plumbing. We value and prioritize customer satisfaction and quality work above all else. We know that the customers is what keeps the business running, which is why our expert plumbers will listen to your needs and concerns and develop a plan that will ensure the plumbing problem is no more.
We provide services for all types of plumbing problems, such as water heater repair/replacement, kitchen disposal, drain cleaning, inspection, and regular maintenance of the plumbing system. Our plumbers perform a quality inspection and provide a report with a list of issues that need to be dealt with in order to reduce the risk of future problems, both short term and long term. After we have provided a plan of action, we recommend signing up for regular maintenance as it is the best solution to preventing sudden issues that may cause thousands of dollars in potential damage to your home or building.
We provide several types of services, we have categorized it into three areas. As mentioned below.
Residential Plumbing – Residential plumbing involves the plumbing system in residential areas, which is predominately housing estates. There are three main concerns, including water heater repair/replacement, pipe damage, and installations. Some examples of problems include water heater leaks, burst pipes, clogged drains, cracked pipes, new water heater installation, installing bathroom components such as a toilet or bath, and more.
Commercial Plumbing – Commercial plumbing systems are on a larger scale to deal with office complexes, apartment buildings, restaurants, and others. Hiring a commercial plumber can help reduce costs for your water bill by modernizing your plumbing system, making your plumbing greener, or add more safety nets to ensure that the residents aren't affected in the event of a plumbing problem.
Emergency Plumbing – This type of service requires plumbers that are adept at handling stressful situations where time is a big concern, and being accessible at all times is crucial to emergency plumbing. Our services provide a 24 hour service for all emergencies such as burst pipes, leaking water heater, and other situations.
Our services at League City, Texas provide licensed plumbers that are experts in their own field, whether its commercial plumbing, residential plumbing, or emergency plumbing, we can ensure that our plumbers are experienced and friendly at the same time.